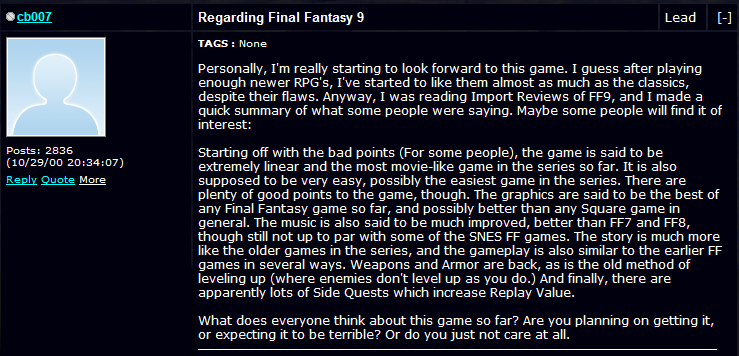 I had to resize the image in CB007's post because it was causing massive horizontal scroll, which would've made archiving this topic impossible. Here's the full-sized screenshot:
This is about to become the centerpiece of ensuing hilarity...
I didn't like Final Fantasy 9 too much, but it wasn't that bad, DH.
Wow. She looks to be about 12-13 years old in that picture. You're not weird. You just have pedophilic tendencies.
Oh, god. Die in a fire, both of you.
She's got a goddamn cameltoe. (There, I'm saying it because no one else did.)
Shut up, just shut up.
@ DH: AH HA HA HA HA HA HA HA HA HA HA HA HA!!!!
That's the first post in a long time that's made me spit water out of my mouth.
Final Fantasy 9: Inspected by #214, Junus Crowe.
Oh great. Pedophile #2 enters the fray.
Thanks for that valuable insight, Aerra1, we can all go home now.
When you declare a game to have "greatness" that can never be equaled, you need to try a little harder to explain it, Mitch.
No one, Kiera. She's being sarcastic - trying to call out Mitch for saying the same thing about Final Fantasy 6 earlier.
I can't comment too much on Final Fantasy 5 except that I could never get into it. I think the problem is that I played Final Fantasy Tactics first and the few hours I spent with FF5 I just kept thinking I'd rather replay FFT instead...so that's what I did.
FF5 excluded because I didn't play it much, I wouldn't seriously call any of those games "tedious". If you're finding them too tedious, then you probably need to change your strategy or your party. I never level-build much in FF1, FF6, or Pokemon.