People sometimes ask me, "James, why do you include posts in 'Citizen James' that aren't yours?" My answer...
Because some posts are just too damn good to let go to waste.
---
You know, Troy, sometimes I think it wouldn't hurt to care just a little bit about what others think of you, allright?
---
Yeah, I know we have it elsewhere on the site, and the image doesn't work here, so it kind of ruins the joke...but still, I laughed so hard when I read this and it was nice to see the original post still exists. (And better to read it here than on the forum where you won't be exposed to "I am a donut's" obnoxiously retarded reply in which he almost succeeded in ruining an otherwise perfectly-good joke. DH wasn't kidding when she said he was annoying. And to think he went running off to another forum to complain that WE were.)
---
No wonder I could never get Linda Ronstadt to power the navigation system on my Lockheed SR-71...
---
I hope this was an attempt to be funny and I wasn't really being serious about that "tiny discs" thing...
---
*sigh* Why did it have to be only in my dreams?
---
Spelling lessons with TermiteJr:
Yeah...but notice the lack of an apostrophe between the "e" and the "s", the wrong variation of "than", and the absence of punctuation at the end.
---
I've sort of gotten over my dislike of talking on the phone. The problem I have is whenever I hear my voice on an answering machine or over a PA system. It just never, EVER sounds like what I think I really sound like. On a related note, I can't get over how much people in this topic were acting like the idea of ordering a pizza online instead of by phone was such a stupid idea. DH and I do it all the time now. I can't even remember the last time we ordered a pizza by phone. It's so much more convenient online.
---
My ability to answer polls is unrivaled.
---
See what I mean?
---
Irony: My RadRazorJames Geocities/Yahoo account no longer exists, but the Homestead account is still there! Even weirder, the index page is Kiera's old site index page. I have a logical explanation for that, but it might make the universe implode.
---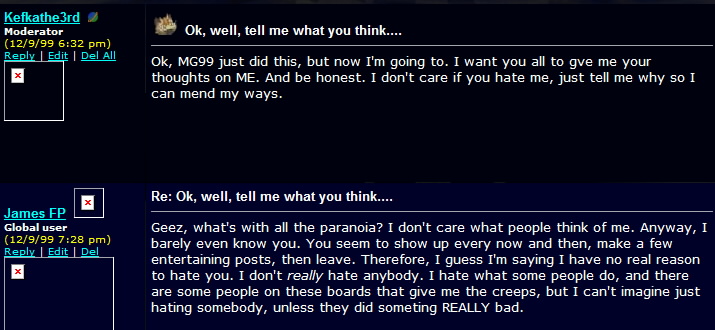 LOFL!!!!!
---
The more I read Benji's posts, the more I realize I never noticed how goofy he was before. I have no idea what this means. This post is just dangling out here. It's not a reply to anything and has no replies. It's like he suddenly remembered to visit his own ezboard and decided to announce it.
---
I have no idea what this means, but thought it was the fucking funniest post I read all night.
---
I'm sure somewhere in there is a coherent thought. But I'm at a loss to find it.
---
I highlighted the part I thought was funny. I know we've joked about it quite a lot, but it was so damn true! Arguments in early Game Pond days would always go down like this:
1. Person A floods the board.
2. Person A is banned.
3. Person B asks what happened to Person A.
4. Person C explains why Person A was banned.
5. Person B: WHAT?!? HOW COULD YOU BAN PERSON A WITHOUT BANNING FO?!?!
6. Person C: Uh...what does FO have to do with this...?
7. Person B: YOU CAN'T BAN PERSON A WITHOUT BANNING FO!! FO RUINED MY LIFE!!! Blah, blah...
And yeah, most of the times FO wasn't involved in the situations at all, and in the early Game Pond days, she didn't even post every single day, so she might not have even been around. Maybe some of these people were just young and stupid at the time, but the sad thing is, 10 years later some of them still act that way and haven't changed at all, as our sitetracker has so often shown us.
---
NO, NO, GOD, NOOOOOOOOOOOOOOO!!! WHY DIDN'T YOU GO WITH YOUR GUT INSTINCT, NBG?!?! YOU SEE WHAT YOU BROUGHT UPON YOURSELVES?!?!?
---
Hey, Troy, you never answered my question, you asshole! PS. I like ASH35's suggestion the best.
---
---
Oh, Benji, you are so adorable. You're sad that you have low self esteem, but you're happy that you're ugly. Sounds like me when I was your age.
---
Magnus! Yo! He's using them to build a bomb!
---
It's one of those things we're never meant to know the answer to.
---
I'm really not sure what I actually would've been expecting. A very prolonged and lingering downward spiral?
---
A lot of times I make posts that are pranks or jokes or bend the truth somewhat, but just for the record, this one is absolutely 100% fucking true. I actually had forgotten all about that teacher until I found this post again. So when you read the rest of the crap archived here, before you decide to hit me with a crowbar, please keep in mind that this person was responsible in some way for my education.
---
My original post where I got the idea for Rate the Game. I sound like such an idiot (WTF @ that "Don't worry, it's not an ezboard" line??) that it's a wonder anyone actually said "yes".
---
Holy shit! I didn't think it was possible it still existed, but I actually found Magnus Crowe's original "There are No Orange Kangaroos in Denmark" post that started that whole Game Pond/Port Saiid in-joke.
---
I really want to play this game now.
---
So, the priest looks like the fisherman from Ocarina of Time AND he makes an obscene gesture when he wins a battle? Now I REALLY have to play this game!
---
Way to cover your ass there, bonkura.
---
I think I'm beginning to see why I kept getting banned from this board...
---
Reason #231 why I shouldn't write game reviews.
---
I think Troy should write more reviews.
---
I have no fucking clue what I'm talking about here.
---
I should've written for GameFAQs. I probably would've won Review of the Month.
---
Okay, admit it, Junus. You put that comment in the poll and you know it!
---
What a day for my Sarcasm Detector to be broken.
---
If you're ever time-traveling and happen to meet the 2001 version of myself, please shoot him.
---
Ironically, as this site section proves, acting like myself turned out to be far more annoying.
---
I actually did get up the nerve and go to Siberia. Not only did they NOT have any woolly mammoths, but they wouldn't clone me, either. YOU LIED, TERMITEJR! DAMN YOU! YOU LIED!!! Addendum: Actually, my trip did turn out to be a lot like Jurassic Park, only with me instead of Jeff Goldblum and cossacks in place of Velocirators. Note: Hiding in the kitchen doesn't work on them, either. But it's twice as much fun seeing them eat a lawyer off a toilet.
---
Sometimes, I don't know if I fucking hate myself so much or fucking love myself so much that I should start spontaneously reproducing.
---
Telling me that is like telling a 5-year-old that Star Wars is really just a bunch of scale models, fancy fireworks, and people in rubber costumes. Thank you, Crawl and 1000! You are single-handedly responsible for shattering the illusions of my youth!
---
I almost couldn't figure out what I meant when I saw this one, especially since DH, DB, and I sometimes have cookouts in the summer. Then I suddenly remembered that for most of my childhood, every time I went to a cookout, the people in charge would always cook the hamburgers and hotdogs until they were WAY too overdone. I mean, you'd be expecting a hamburger, and get an unidentifiable lump of ash and charcoal on a smashed bun. I put 99% of the blame for the rest of these posts on this sad facet of my depressing youth.
---
I didn't mention it back then, but my REAL problem with Dragon Ball Z is that I feel 100% of the show should've been about showing Goku running from one place to another. 90% is just not enough Goku sweat and rippling muscles bursting out of dirty and poorly-knitted karate uniforms for my liking. Akira Toriyama, you had a good idea here, but YOU DROPPED THE BALL!!
---
The best two things about this are: 1. The piechart icon is actually still working. Viva la forgotten Homestead accounts! And 2. PiE(chart) got the most votes.
---
I shattered this poor soul's dreams and opened his innocent eyes to the coldness of reality. After having all his hopes dashed, rumor has it he dropped out of highschool and is now working the night shift at an all-you-can-eat popcorn stand in Pittsburgh. This put me one step closer to my goal of world-domination, one unsuspecting message board kiddie at a time.
---
PLEASE, GODDAMMIT, BRING THEM BACK AND REPLACE JESSIE AND JAMES SO I CAN BE RELEASED FROM MY PROMISE AND STOP WATCHING THIS FUCKING CARTOON!!! IT'S BEEN 7 FUCKING YEARS!!! Gotta...kill'em...all... Gotta...kill'em...all!!!
---
Okay, that's a pretty lame excuse to not want to see a movie. The problem is that I went to school with stupid jocks who were always saying that if I saw this movie, I'd pee myself and get possessed by the devil because I was a stupid littly skinny nerdy geek guy with a big nose and glasses. Then I left one summer 5'2" and came back 5'9" and they never bothered me again. Actually, if I had gotten possessed by the devil, that would've been cool because I can imagine the ultimate First Day of School in which a 5'9" James Torrance walks up to the jocks and without a word, vomits green pea soup all over them. I was so deprived.
---
Oh...my...god...That is the gayest name, avatar, and signature I have ever had!
---
I wish I had known what Cho-Aniki was at the time, because if I did, I would've asked this guy to marry me. *sigh* Life is so full of lost opportunities.